Building a Positive Body Image with Children's Books
By Kerry McGuire
For this month's booklist, our team have selected some titles that can help to foster a positive body image in children and teens. Many of these stories feature characters who start off with body confidence issues due to bullying about their weight, medical conditions, height, or physical differences. But as the stories develop, the characters work to overcome their insecurities and begin to find love for the body they are in.
Check out the list below for the books' Accelerated Reader quiz information.
Hair Love by Matthew A. Cherry, illustrated by Vashti Harrison
LY | Quiz # 239994 | BL 2.1 | Puffin
A little girl's daddy steps in to help the girl arrange her curly, coiling, wild hair into styles that allow her to be her natural, beautiful self.

Delightfully Different Dilly by Elizabeth Dale, illustrated by Liam Darcy
LY | Quiz # 241091 | BL 2.7 | QED Publishing
Dilly is different from the other baby penguins in that she has just one leg, but her parents know she is perfect. Most of the penguins love that Dilly is different, but some of them are not so sure.
Perfectly Norman by Tom Percival
LY | Quiz # 237219 | BL 2.8 | Bloomsbury
Norman is thrilled to discover he grew a pair of wings overnight, but his excitement turns to doubt when he realises he is now different from everyone else, causing him to question whether there is such a thing as perfectly normal.
The Amazing Edie Eckhart by Rosie Jones, illustrated by Natalie Smillie
MY | Quiz # 241304 | BL 4.8 | Hodder Children's
Edie Eckhart, who has cerebral palsy, is devastated when she and her best friend are put into different forms at secondary school. When she's accidentally cast in the school play, Edie must learn to make new friends and find her passions.
Wink by Rob Harrell
MY | Quiz # 240981 | BL 3.9 | Hot Key Books
After being diagnosed with a rare form of eye cancer, twelve-year-old Ross discovers how music, art, and true friends can help him survive both treatment and middle school.
Dear Sweet Pea by Julie Murphy
MY | Quiz # 241254 | BL 5.1 | Balzer & Bray
Thirteen-year-old Patricia, widely known as Sweet Pea, navigates her parents' unconventional divorce and finds herself in the unlikely role of her town's advice columnist.
Turtle Boy by M. Evan Wolkenstein
MY | Quiz # 239327 | BL 4.4 | Usborne
Kids at school bully Will for his unusual chin. But when he's forced to visit an incurably ill older boy for his bar mitzvah project, Will begins to learn that life is too short to live in a shell.
Starfish by Lisa Fipps 
MY | Quiz # 240278 | BL 4.1 | Nancy Paulsen
Bullied and shamed for her weight her whole life, twelve-year-old Ellie finally gains the confidence to stand up for herself, with the help of some wonderful new allies.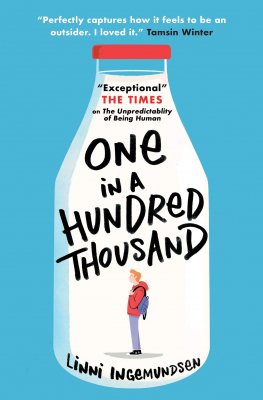 Scars Like Wings by Erin Stewart
MY+ | Quiz # 241368 | BL 5.1 | Simon & Schuster
One year after a fire claimed her parents' and cousin's lives and left her severely disfigured, sixteen-year-old Ava faces her return to high school. But when Ava meets a fellow survivor named Piper, she begins to feel like maybe she doesn't have to face the nightmare alone.
One in a Hundred Thousand by Linni Ingemundsen
MY+ | Quiz #240173 | BL 4.3 | Usborne
Sander wishes he was like everyone else. But he has a rare condition that means he is smaller than other kids. When he meets Niklas, a boy who makes him feel even smaller, Sander notices something nobody else has.

Say No to the Dress by Keren David
MY+ | Quiz # 242269 | BL 4.0 | Barrington Stoke
Puberty has caused fourteen-year-old Miri's body to change. Life already feels like a nightmare and now she's been asked to act as a bridesmaid for two of her siblings. Two weddings and two bridesmaid dresses – could things get any worse?
Darius the Great Is Not Okay by Adib Khorram
UY | Quiz # 238887 | BL 4.7 | Penguin Books
Clinically depressed Darius Kellner, a high-school sophomore, travels to Iran to meet his grandparents, but it is their next-door neighbour, Sohrab, who changes his life.
Dumplin' Go Big or Go Home by Julie Murphy
UY | Quiz # 238637 | BL 4.6 | HarperCollins
Questioning her plus-sized body when an athletic boy appears to return her affections, Willowdean enters her city's beauty pageant and uses her sassy styles and talents to compete against thinner contestants.
I'll Be the One by Lyla Lee
UY | Quiz # 242397 | BL 5.4 | Katherine Tegen Books
Korean American Skye Shin competes on a reality television show, hoping to become the first plus-sized K-pop star while falling for her competitor Henry Cho, who happens to be a world-famous celebrity.
No Big Deal by Bethany Rutter
UY | Quiz # 240605 | BL 5.2 | Macmillan Children's Books
Emily knows she's awesome but the people around her keep telling her that her body should be holding her back. When she meets gorgeous Joe, things start to change.
Why not get in touch via Twitter to let us know your favourite titles on this topic? If you have some titles you'd like to see quizzed, please use the request a quiz form.
Happy quizzing!
---
---