Delving into Mental Health in Children's Books
By Kerry McGuire
This month's books cover topics such as anxiety, depression, worry, and bullying, all things that many children can experience at a young age. The titles were hand-picked by our team of quiz writers and have a particular focus on books for younger pupils. Illustrated and simple picture books are often a great way to begin discussions around these topics. There's even a brilliant graphic novel for teens, which is a team favourite.
Check out the list below for the books' Accelerated Reader quiz information. For more titles on Mental Health, use the advanced search tool on AR Bookfinder and search for the topic "Mental Health".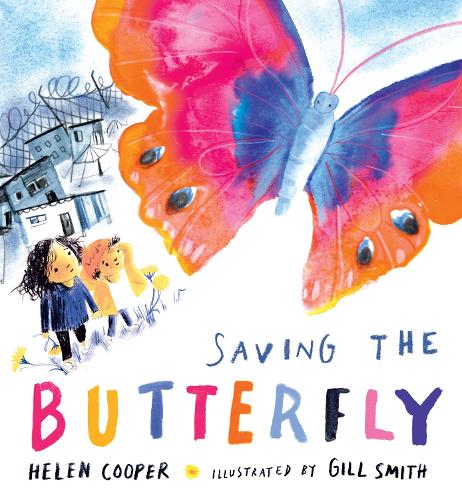 Tilda Tries Again by Tom Percival
LY | Quiz # 241324 | BL 2.7 | Bloomsbury
Tilda's world turns upside-down one day and she starts to give up. When she sees a little ladybird in trouble, it makes her stop and think.

Saving the Butterfly by Helen Cooper, illustrated by Gill Smith
LY | Quiz # 242152 | BL 2.7 | Walker Books
When a brother and sister are shipwrecked, warm arms reach out and rescue them, giving them shelter. But the older child still remembers her old life, and feels anxious in this new place. When a butterfly needs her help, she sees how to conquer her fear.
The Worrying Worries by Rachel Rooney, illustrated by Zehra Hicks
LY | Quiz # 240221 | BL 1.9 | Andersen Press
Do you ever worry about your Worries? They can be awful pests, and they hate to see you happy. But if you follow some simple steps you can banish those worries for good!
Mindi and the Goose No One Else Could See by Sam McBratney, illustrated by Linda Ólafsdóttir
LY | Quiz # 241020 | BL 3.7 | Walker Books
Mindi and her devoted father try everything they can think of to drive away the "big goose", which only Mindi can see.
Anna Liza and the Happy Practice by Eoin Colfer, illustrated by Matt Robertson
LY | Quiz # 230532 | BL 4.0 | Barrington Stoke
Anna Liza Madigan has her psychiatrist's kit all ready for action. Her mum's waiting room is full of kids who need help – and Anna Liza is just the girl to lift their spirits.
The Hospital Dog by Julia Donaldson, illustrated by Sara Ogilvie
LY | Quiz # 242021 | BL 2.7 | Macmillan Children's Books
Dot loves visiting the children of Wallaby Ward, and they're always pleased to see her too! But the work of the hospital dog doesn't stop there and when one of her patients is in trouble, it's up to Dot to save the day!
KiKi Kallira Breaks a Kingdom by Sangu Mandanna
MY | Quiz # 241329 | BL 5.3 | Hodder Children's
Kiki uses her drawings as an escape from her worries. But when she's sucked through the pages of her sketchbook, she finds herself drawn into a world of Hindu legends where only she can save the day.
Aubrey and the Terrible Yoot by Horatio Clare
MY | Quiz # 230842 | BL 4.8 | Firefly Press
Aubrey is a rambunctious boy who tries to run before he can walk and crashed two cars before he could drive one. But when his father falls under a horrendous spell, Aubrey is determined to break it with the help of the animals of Rushing Wood.
Llama Out Loud by Annabelle Sami, illustrated by Allen Fatimaharan
MY | Quiz # 238760 | BL 4.8 | Egmont
No one ever listens to Yasmin Shah. She's the only quiet one in her big, loud family. When Levi the chatty, rude llama pops into her life, he gets Yasmin into all sorts of trouble. But can he help Yasmin to find her voice?
Charlie Changes into a Chicken by Sam Copeland, illustrated by Sarah Horne
MY | Quiz # 237749 | BL 4.8 | Puffin
Charlie can change into animals. Trouble is, he can't decide when – it only happens when he gets worried. And right now, Charlie has quite a lot to worry about. Can he learn enough about his new powers before the school play?
A Monster Calls by Patrick Ness
MY | Quiz # 220166 | BL 4.8 | Walker Books
In this novel inspired by an idea from Siobhan Dowd, thirteen-year-old Conor awakens to find a monster outside his bedroom window–not the one from his recurring nightmare, but an ancient, wild creature that wants him to face truth and loss.
Looking After Your Mental Health by Alice James
MY+ | Quiz # 235042 | BL 7.1 | Usborne
This young person's guide to good mental health explains why we have emotions, and what can influence them, from friendships and social media, to bullying, to divorce and bereavements.
Most Likely by Sarah Watson
MY+ | Quiz #239532 | BL 4.2 | Scholastic Children's Books
Four best-friend high school seniors, one of whom is unknowingly destined to be the President, navigate private insecurities, ambitions and obstacles while supporting each other through their setbacks.

Stage Fright by Jo Cotterill
MY+ | Quiz # 231708 | BL 3.7 | Bloomsbury
Alice has the lead in the school play and she should be feeling great. But Alice's mum and dad are having problems and she can't control the thoughts that speed around in her head. Can her friends help her tackle her stage fright?
The Sad Ghost Club by Lize Meddings
UY | Quiz # 241094 | BL 2.4 | Hodder Children's Books
A graphic novel. When one sad ghost, alone at a crowded party, spies another sad ghost across the room, they decide to leave together. Because that night they start The Sad Ghost Club – a club for people who think they don't belong.
The Midnight Library by Matt Haig
UY | Quiz # 242053 | BL 5.2 | Canongate Books
Nora's life is going from bad to worse. Then at midnight on her last day on earth, she finds herself in a library. She is given the chance to undo her regrets and try out each of the other lives she might have lived. Contains adult themes.
Am I Normal Yet? by Holly Bourne
UY | Quiz # 228829 | BL 4.5 | Usborne
All Evie wants is to be normal. Now that she's almost off her meds and at a new college where no one knows her as the-girl-who-went-nuts, there's only one thing left to tick off her list.
Why not get in touch via Twitter to let us know your favourite titles on this topic? If you have some titles you'd like to see quizzed, please use the request a quiz form.
Happy quizzing!
---
---