Celebrating Pride with Newcomer LGBTQ+ Authors
By Lucy McGraw
In honour of Pride Month, the content team has selected several titles that we have enjoyed by newcomer LGBTQ+ authors whose debut books have been published between 2020 and 2022. This list includes some of those debuts as well as some follow-up titles.
We've loved getting to know the characters in these stories, following their journeys, and seeing more LGBTQ+ representation in children's books.
Check out the list below to find titles for all ages and the books' Accelerated Reader quiz information.
Strong by Rob Kearney and Eric Rosswood, illustrated by Nidhi Chanani
LY | Quiz # 243422 | BL 3.8 | Little, Brown & Co.
This fictional biography follows Rob Kearney as he becomes a professional strongman and finds the courage to be himself at the North American championship. Kearney is the first out gay strongman.
Ellen Outside the Lines by A.J. Sass
MY | Quiz # 243376 | BL 4.2 | Little, Brown & Co.
Ellen, an autistic thirteen-year-old, navigates a new city, shifting friendships, a growing crush, and her queer and Jewish identities while on a class trip to Barcelona, Spain.
The Real Riley Mayes by Rachel Elliott
MY | Quiz # 243673 | BL 2.7 | Balzer & Bray
Fifth grade is just not Riley's vibe. Everyone is squaded up – except Riley. All she wants to do is draw, and her grades show it. But when a rumour is spread about her, things begin to click into place for Riley. Her curiosity about Aaron's two dads and her celebrity crush on Joy Powers suddenly make more sense.
The Last Firefox by Lee Newberry, illustrated by Laura Catalán
MY | Quiz # 243281 | BL 4.6 | Puffin
Charlie finds life a bit scary, and when he's made guardian of a fox cub, things get scarier. Because Cadno isn't just any fox: he's a firefox and a sinister hunter from another world is on his trail.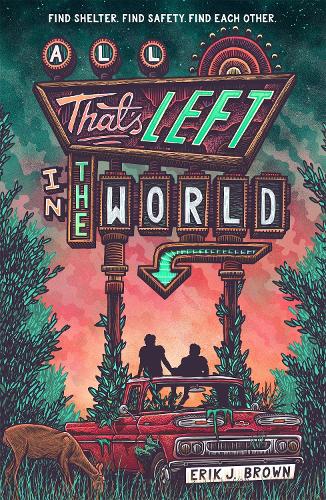 Cemetery Boys by Aiden Thomas
MY+ | Quiz # 241260 | BL 5.2 | Swoon Reads
When his traditional Latinx family struggles to accept his true gender, Yadriel, a transgender boy, is determined to prove himself as a real brujo. With help, he summons a spirit and helps a new friend.
We Deserve Monuments by Jas Hammonds
UY | Quiz # 243611 | BL 5.0 | St. Martin's Press
When Avery moves to rural Georgia, she encounters family secrets and a mystery surrounding the town's racist past. As Avery and Simone's friendship blossoms into romance, the sharp-edged opinions of their small southern town begin to hint at something insidious underneath.

All That's Left in the World by Erik J. Brown
UY | Quiz # 243348 | BL 4.5 | Hodder Children's Books
Two boys search for civilization in a world ravaged by a deadly pathogen. But something isn't adding up about Andrew's story, and it could cost them everything. And Jamie has a secret, too. He's starting to feel something more than friendship for Andrew, adding another layer of fear and confusion to an already tumultuous journey.
Ace of Spades by Faridah Àbíké-Íyímídé
UY | Quiz # 240862 | BL 5.1 | Usborne
Welcome to Niveus Private Academy, where the students are never less than perfect. Until now. Because anonymous texter, Aces, is bringing two students' dark secrets to light. Devon buries himself in rehearsals, but he can't escape the spotlight when his private photos go public. Head girl Chiamaka isn't afraid to get what she wants, but soon everyone will know the price she has paid for power.
Celebrate Pride with us year-round by reading some of these delightful LGBTQ+ books!
We are currently updating our topics and subtopics on Bookfinder with the aim of making them more inclusive and useful for our customers. Please direct any suggestions you have to us via social media.
Why not get in touch via Twitter to let us know your favourite titles on this topic? If you have some titles you'd like to see quizzed, please use the request a quiz form.
Happy quizzing!
---
---